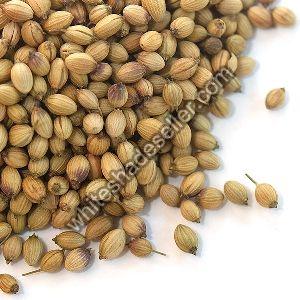 Coriander seeds are one of the highly savoured spices in Indian kitchens. Not only, does it possess the unique flavour that readily enhances the aroma of a recipe, it too brings along an array of health benefits. Whether it is a simple cup of tea or a full-fledged meal of the day, coriander seeds have maintained their place intact among each of them. In recent years, the have been many coriander seeds suppliers in India, the reason is quite evident in the context of global demand. This article will move around the facts that position coriander seeds to everyone's favourite.
Excellent Flavouring Properties: The discussion on coriander seeds will remain incomplete without shedding light on its most potent property of adding flavor to a food recipe. Both the leaves and seeds have excellent flavouring properties, the seeds are dry roasted to grind to fine powder whereas, freshly chopped coriander leaves take the freshness level to a new high.
Used As A Preservative: Most pickles use coriander seeds or coriander powder as one of their important additives. Its unique anti-microbial property protects the food item from any foreign contamination, and thereby elongates the product life. Also, its crunchy texture adds an altogether new dimension to the taste of the pickle.
Lowers Blood Sugar: Coming to the wellness properties of coriander seeds, it is a well-known home remedy for controlling blood sugar levels. Coriander seeds when soaked and dipped in the water overnight helps to fight the excess sugar in the blood. The ethanol present in the coriander seeds acts as a shield so that the sugar levels don't shoot up.
Boosts Immunity: There had been many coriander seeds suppliers due to its amazing property in elevating the immune mechanism in human beings. Compounds like tocopherols, quercetin, terpinene not only prove as antioxidants but it gives protection from many deadly diseases like cancer. Keep a habit of relishing coriander seeds or coriander leaves during dining hours.
An Admirable Ingredient Of Salads: Be it the color or liveliness or greenery in a salad, coriander leaves pose the perfection in this food item. As it beholds a fresh aroma and delicacy in every single bite, making the whole cuisine a riveting one. No salad can be appreciable if it misses coriander leaves as one of its elements.
Fights Hyperthyroidism: Lately though the world realized, in ancient ayurvedic texts, it has been detailed that coriander seeds are very effective in curing hyperthyroidism. A few tablespoons of coriander seeds when soaked overnight, gives marked changes in the overall thyroid level when drank after boiling and cooling it.
Not to say, coriander seeds are a storehouse of many magical properties. That is one of the good reasons why there are so many coriander seeds exporters. With growing consciousness of health and wellness, the benefits and uses of coriander will remain intact. Indeed it is a boon for everyone around us who has been using coriander seeds in some form or the other.